Main content starts here, tab to start navigating
Weddings and Rehearsals
Nestled in Cambridge's Kendall Square, Glass House is an award-winning and internationally-recognized restaurant & bar perfect for any wedding, rehearsal, shower and all events in between.
Slide 1 of 6
Slide 2 of 6
Slide 3 of 6
Slide 4 of 6
Slide 5 of 6
Slide 6 of 6
Modern Wedding Venue in Cambridge
Glass House is a restaurant and bar inspired by the history and identity of Kendall Square. With floor-to-ceiling windows and a vibrant color palette, the restaurant has been recognized locally and internationally for its eye-catching design.
Located in the heart of Kendall Square's Canal District, Glass House is adjacent to an outdoor plaza space and close to MIT, Harvard and the Charles River.
The event space can hold receptions for up to 125 guests with a dance floor. For seated events, the space accommodates up to 60 guests.
Photographer: Elizabeth Willis Photography


Get in Touch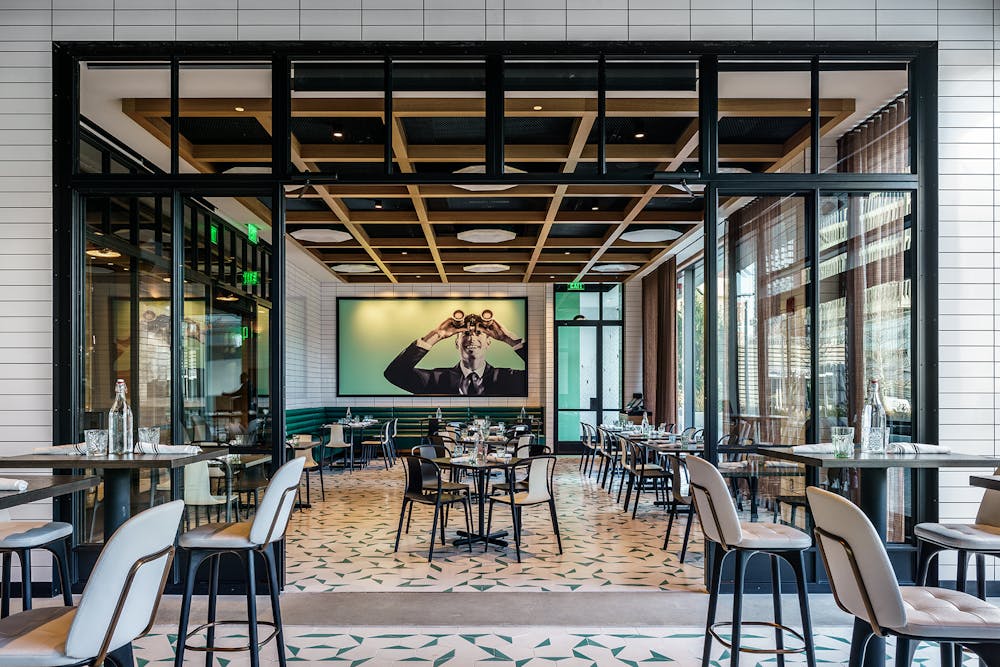 Learn more about Glass House & talk to our dedicated event coordinator!
Accolades & Testimonials
Boston Society of Architects' Hospitality Design Award 2018
Winner of International Interior Design Association's Best Design Award 2017
Featured in Interior Design Magazine's "6 Eye-Catching Restaurants" July 2017
Patch Boston "These Are Boston's Most Instagrammable Restaurants" November 2018
"The team at Glass House is beyond unbelievable. Kristen is a phenomenal event manager and helped me and my husband coordinate our wedding. Her communication and professionalism is exceptional. Absolutely recommend Glass House for a wedding- the food, staff and ambiance was amazing! We can't thank the team enough!"
"We hosted our wedding reception here and couldn't have asked for a better venue! The location was lovely for photos by the Charles and the small canal with kayaks, and they were able to open up the glass doors so that the outdoor and indoor spaces were essentially combined. We'd had the North End buffet option which was delicious, and the bartenders and staff were all incredibly friendly. Everyone we talked to afterwards spoke about how much they enjoyed the event, and we credit that heavily to the planning and day-of help from Shauna and Kristen. We're incredibly thankful and can't wait to come back for some regular meals!"
"Our wedding experience with Glass House was amazing! We reached out to Glass House in order to hold a small ceremony and dinner, and Glass House made our wedding feel both intimate and luxurious. We used their private dining room for our ceremony and seated three-course dinner, and their bar dining area to host our guests for a mini-reception in between. Among the things we loved about the physical space were the lighting and décor, which led to great photo opportunities both inside and outside. All of our guests complimented the food, atmosphere, and service. The on-site staff was not only professional, but also friendly with our guests. Jennifer and her team were so helpful and responsive throughout the planning process, from discussing the menu (our party had various dietary restrictions to manage) to working out arrangements under the unique Covid-19 circumstances."
"We held our engagement party at Glass House and it was perfect! We had about 40 guests and we used the outdoor space primarily, though guests also mingled inside. Choosing our menu items was super easy as there are so many excellent choices, including vegetarian choices! Our guests loved the cocktail selection and all the food was delicious. Coordinating with the restaurant was easy and all their communication was prompt and professional. I initially chose this space because I love the interior design. We're hoping to have future events here, and highly recommend this space to anyone!"
Slide 1 of 6
Slide 2 of 6
Slide 3 of 6
Slide 4 of 6
Slide 5 of 6
Slide 6 of 6
Customizable Menu
Our banquet menu features New England fare with fresh ingredients & is customizable to your taste. Pair your menu with a signature cocktail, diverse wines, or a selection of local craft beers from our bar.
View Menu
Real Wedding at Glass House
Shannon and Matthew hosted their modern fall wedding at Glass House with the help of a canine companion.
Read More